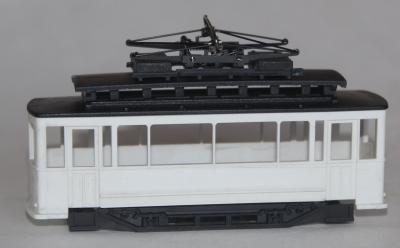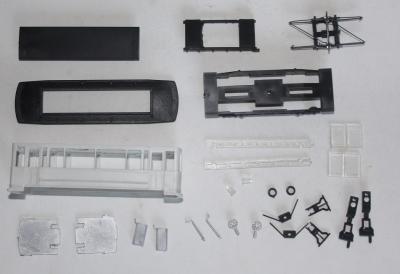 This kit is of the 4 wheel old timer car with a clerestory roof.
The kit includes plastic and white metal parts, and a working pantograph.
Additional detailing parts are available.
This kit is of the Frankfurt C series cars, but can also be used to model the E series cars, and some of the Frankfurt or Magdeburg works cars.
With some modification, this kit can also be made into a Bevieux, Eisenach, Esslingen, Gera, Jena, Plauen, Stralsund, Zurich, Zwickau or Stuttgart car.
With a torpedo roof, this kit can be made into a Brandenburg, Frankfurt, Gorlitz, Karl Marx Stadt or Schwerin car. It can also make works cars from Brandenburg, Dresden, Gorlitz, Leipzig or Schwerin.
This is an ex Gog model, now produced by Derek Lambelle.
Truck - ME32D09 or equivalent