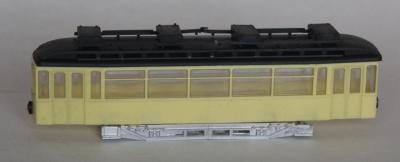 This kit is of a long 4 wheel car with a single front light and a clerestory roof.
The kit includes plastic and white metal parts, and a working pantograph.
Additional detailing parts are available.
With some modification, this kit can be used to make cars from Bochum, Duisburg, Erfurt, Graz, Kassel, Luxemburg, Mainz, Mettman, Reutlingen, Stern & Hafferl and a Dusseldorf works car.
This is an ex Gog model, now produced by Derek Lambelle.
Truck - ME42D09 or equivalent