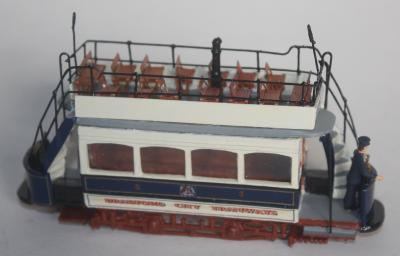 KW 002q Bradford Liverpool
This kit is of the first batch of cars for Bradford, numbers 1-16, built by Brush in 1898, also the second batch, numbered 17-28 delivered in 1899.
The kit also makes the Liverpool Westinghouse cars numbered 459-463 (later 43-47).
Truck - ME24S09 - see OO gauge motors section of this web site.
For transfers for the Bradford version of this kit, see KW 002q Bradford transfers in the transfers section of this web site.
Additional parts you may require
GlazeOOstd 10 thou glazing x2
GlazeOOthin 5 thou glazing x0
Wire07 Brass wire 0.7mm x4
PCMDSEAT Double Garden seats x7 seats
PCMSSEAT Single Garden Seat x9 seats
Numbers include 2 single + 2 double to make 2 triple seats