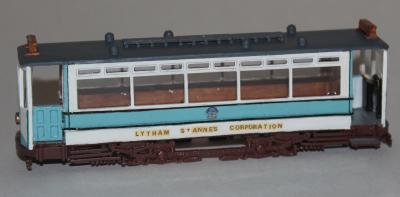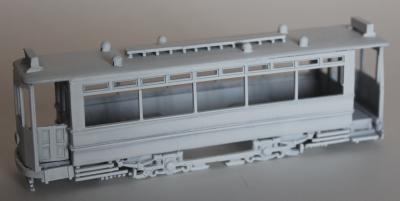 These 30 trams (numbers 1-30) were built in 1924 by English Electric for Dearne District Light Railways.
The cars had 5 window bodies, with P22 8ft 6in trucks and very short platforms with entrances on each side.
The cars had longitudinal seating for 36 passengers, but 4 cars had 2+1 cushioned transverse seats fitted about 1927 which reduced their seating capacity to 31.
When Dearne tramways closed, four trams went to Lytham St Annes to become numbers 51-54 in their fleet. Lytham bought them for winter use and paid £500 for the lot. They were repainted in the zig-zag livery of bright blue and brilliant white, with red lead truck, fenders and lifeguards. During the winter of 1933/4 they operated on the Lytham – Gynn Square service but Walter Luff objected to their small carrying capacity and they were subsequently restricted to local services within Lytham St Annes. They were scrapped in 1937.
Truck - ME34D09 - see OO gauge motors section of this web site.
For transfers for the Lytham version of this kit, see KW 014 Lytham transfers in the transfers section of this web site.