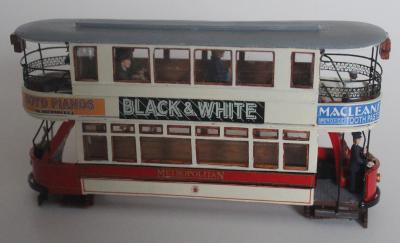 KW 019a MET Type B/2 balcony top
This kit is of the MET balcony top class B/2 car. These were converted from the original class B cars numbered 1-70.
16 trams were converted, numbers 3, 4, 5, 7, 9, 10, 11, 13, 15, 16, 19, 24, 26, 27, 30 & 34.
These trams initially had standard height panels on the balconys, topped with scroll work, but later this was changed to single sheet metal panels to the full height of the original panels plus scroll work.
Cars 3 & 34 had bow collectors for 2 years.
A number of these cars survived into LPTB ownership, and became numbers 2467 to 2482.
Motor - MEMT - see OO gauge motors section of this web site.
For transfers for this kit, see KW 019 MET transfers in the transfers section of this web site.