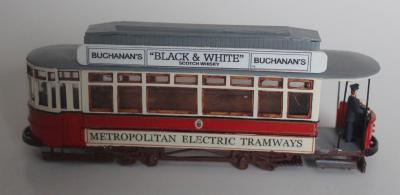 In February 1926, in order to try to increase capacity on the trams, coupled cars were tested. This kit is of the single deck ex type B car that formed the single deck portion of the second coupled car set. It was coupled to number 82, an enclosed top bogie car of Type H.
Car 56 was cut down to single deck, and converted to single ended operation, with the non-driving platform vestibule all round and incorporated into the saloon with the bulkhead removed. The longitudinal wooden seats were replaced with four pairs of two-and-one transverse seats, with corner seats for 16 plus seating for 4 in a semi-circle round the former platform. The seats were upholstered in grey-green lozenge pattern Moquettino fabric.
Motor - ME34D09 - see OO gauge motors section of this web site.
For transfers for this kit, see KW 019 MET transfers in the transfers section of this web site.