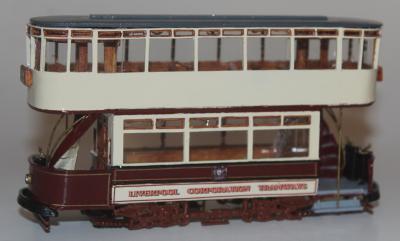 KW 022c Liverpool Twin Staircase batch 2 later
This kit is of the second batch of Liverpool twin staircase cars which were numbered 583-605 in their modified state with single stairs, and enclosed top decks. Some also had platforms shortened to a more normal length.
603-605 were built with single staircases.
This kit includes both long and short platforms.
Truck ME32D10 not included - see OO gauge motors section of this web site.
For transfers for this kit, see KW 022b Liverpool twin stair later transfers in the transfers section of this web site.