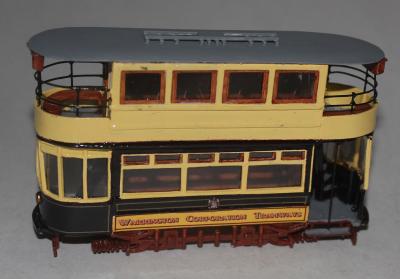 This kit represents one of the cars from the first batch of electric cars delivered to Warrington. They were built by Milnes in 1902 and were numbered 1-21. Car 2 is preserved at the Merseyside Tramway Museum. They were originally built as open top cars but most were top covered between 1904 and 1907. Some were later fitted with driver vestibules and enclosed tops.
A number of variations can be built from this kit, including restored tram 2 (28) in it's balcony top / driver vestibule condition.
Truck - ME24S10 - see OO gauge motors section of this web site.
For transfers for this kit, see KW 0034 Warrington transfers in the transfers section of this web site.