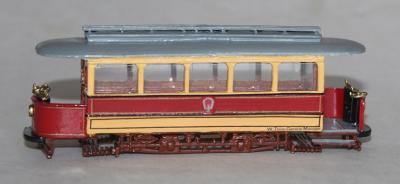 This kit is of Potteries car 121.
A batch of 6 cars, numbered 53 to 58, were built by E.R. & T.C. Co for Sheffield in 1899. Sheffield later sold a number of these. Car number 58 was sold to The Potteries in 1920 where it was numbered 121. It ran until 1928 when it was withdrawn and scrapped. This car had a 6ft Peckham 10A truck fitted.
Car 56 was sold to Glossop, where it was renumbered to 9.
The following cars were almost identical, so can also be built using this kit. Oldham 1, 17-26, Rotherham 13-15 (2nd batch),
Yorkshire Woollen District 57-58.
Truck - ME24S10
For transfers for this kit, see KW 052 Potteries transfers in the transfers section of this web site.