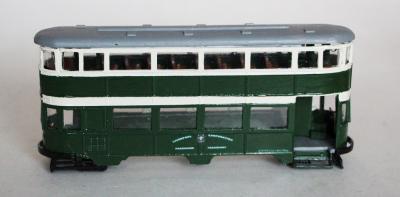 KW 058a Liverpool Marks Bogie Car
This kit is of the Liverpool Marks Bogie cars numbers 818 – 867. They were built at Edge Lane between 1935 and 1936 at a rate of about 4 per week. They were similar to the Cabin cars, but without platform doors and separate drivers cab. The first 25 cars had EMB heavyweight trucks, the last 25 had EMB Lightweight trucks.
Truck - MEEW or equivalent - - see OO gauge motors section of this web site.
For transfers for this kit, see KW 0058a Liverpool transfers in the transfers section of this web site.