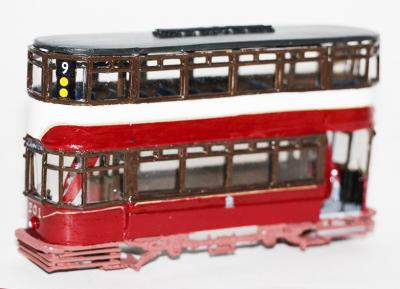 KW 059b Edinburgh Standard later
This kit is of the later enclosed Edinburgh wood standard cars.
Between 1922 and 1934 Edinburgh Tramways introduced 240 four wheel tramcars of a basically similar design. They were primarily built of wood with 4 window saloons, open balconies, driver's platform vestibules and a front exit on the nearside under the stairs. They were built by McHardy & Elliott (with top decks by Hurst Nelson), Leeds Forge Co, English Electric Company, Edinburgh Corporation and R.Y Pickering.
Truck - ME34D09 or equivalent - - see OO gauge motors section of this web site.
For transfers for this kit, see KW 0059b Edinburgh transfers in the transfers section of this web site.