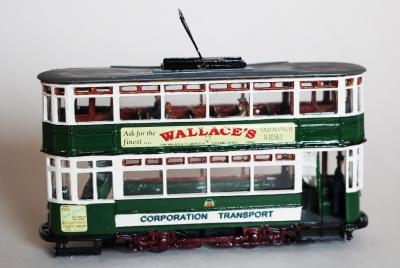 This kit is of Aberdeen Standard cars.
These cars were built by Aberdeen Corporation Tramways between 1923 and 1931. They were numbered 62, 63, 99-106 & 116-124. They were built as fully enclosed cars, with a variety of trucks, though all were re-trucked with Peckham P35s.
This kit was initially sold by East Lancs Model Tramway Supplies as a basic body shell kit. It was cast by Mark Hughes from original masters made by Brian Yates. Unfortunately, the mould no longer works, so KW Trams have made a new mould and are selling the model as a full white metal kit.
Truck - ME34D09 or equivalent.
For transfers for this kit, see KW 0069 Aberdeen transfers in the OO gauge transfers section of this web site. There are standard transfers as well as 5 different coloured route sets.