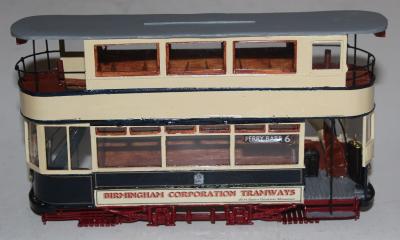 This kit is of the Birmingham Brill Class cars. They were 4 wheel open top double deck cars with 180 degree stairs and 16' long saloons. They were built by Dick, Kerr & Co Ltd between 1905 and 1908.
The bodies were built by United Electric Traction of Preston. They were mounted on Brill 21E 6ft trucks.
The kit can be built as open top, or top covered and with or without vestibules by using the appropriate included parts.
Truck - MEO42D16 - see O gauge mechanisms section of this web site.
For transfers for this kit, see KW 0108 Birmingham transfers in the O gauge transfers section of this web site.
Additional parts you may require
GlazeOstd 10 thou glazing x2 for open top, 5 for balcony top
GlazeOOthin 5 thou glazing x1
Wire1 Brass wire 1mm x8 for open top, 5 for balcony top
KW1SSBDBL Double Garden seats x6 seats
KW1SSBSGL Single Garden Seat x6 seats