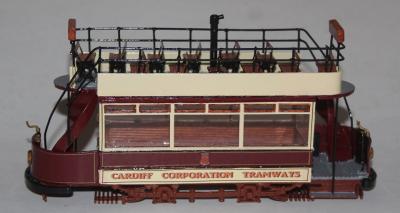 KW 110 Cardiff Open Top Car
Our kit is based on Cardiff cars 12 and 15.
Cars 1-20 were part of the original order of cars for Cardiff tramways.
They were built by the Electric Railway & Tramway Carriage Works Ltd (Dick Kerr) in Preston in 1901. Originally they had straight stairs with a landing halfway up (similar to Robinson pattern stairs).
Cars 12 and 15 had their stairs replaced by standard 180 degree stairs. This is the version the kit is of.
Car 15 was later converted to a works car and was fitted with a snowplough.
Truck - MEO45D16 - see O gauge mechanisms section of this web site.
For transfers for this kit, see KW 110 tr Cardiff transfers in the transfers section of this web site.
Additional parts you may require
GlazeOstd 10 thou glazing x2
GlazeOOthin 5 thou glazing x0
Wire1 Brass wire 1mm x9
KW1SSBDBL Double Garden seats x11 seats
KW1SSBSGL Single Garden Seat x1 seats