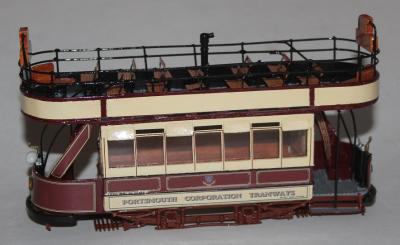 KW 111 Portsmouth 84 Electrified Horse Car
Our kit is based on Portsmouth cars 81-84.
They were originally built in 1890 by North Metropolitan Tramways.
Four of the cars were rebuilt by Portsmouth as electric cars in 1903.
Car 84 was preserved and was stored in Eastney Bus Depot for many years. It is now at the Milestones Museum in Basingstoke.
Truck - MEO42D16 - see O gauge mechanisms section of this web site.
For transfers for this kit, see KW 111 tr Portsmouth transfers in the transfers section of this web site.
Additional parts you may require
GlazeOstd 10 thou glazing x2
GlazeOOthin 5 thou glazing x0
Wire1 Brass wire 1mm x9
KW1SSBDBL Double Garden seats x11 seats
KW1SSBSGL Single Garden Seat x1 seats