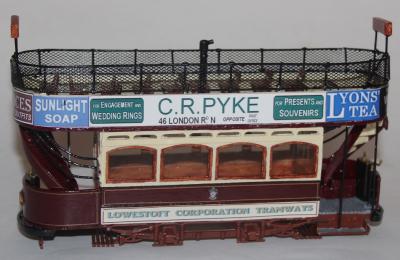 This kit is of the Lowestoft open top cars numbers 1 to 15. They were built by Milnes in 1903/4.
They were 3' 6" gauge (but the model is made to take a standard O gauge mechanism).
Car 14 is preserved at the East Anglia Transport Museum, Carlton Colville.
Truck - MEO42D16
For transfers for this kit, see KW 113 Lowestoft transfers in the transfers section of this web site.
Additional parts you may require
GlazeOstd 10 thou glazing x2
GlazeOOthin 5 thou glazing x0
Wire1 Brass wire 1mm x9
KW1SSBDBL Double Garden seats x8 seats
KW1SSBSGL Single Garden Seat x10 seats