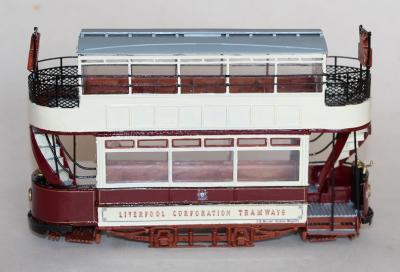 KW 117 Liverpool Bellamy car
This kit is of the Liverpool Bellamy Cars. There were over 430 of these cars. They were standard double deck top covered trams built by Dick Kerr and from 472 at Lambeth Road Works in Liverpool. They were built between 1900 and 1907, and some lasted until 1949. 15 were rebuilt as balcony cars, and 86 to Priestly type. 21 were converted to works cars and the remaining cars were scrapped between 1934 and 1938.
Motor - MEO42D16 or equivalent.
Additional parts you may require
GlazeOstd 10 thou glazing x4
GlazeOOthin 5 thou glazing x0
Wire1 Brass wire 1mm x5
KW1SSBDBL Double Garden seats x8 seats
KW1SSBSGL Single Garden Seat x0 seats