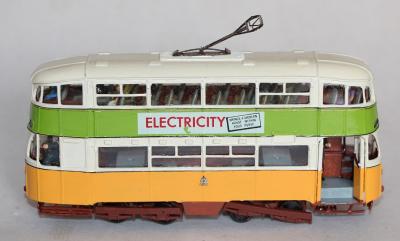 This kit is of the Liverpool Green Goddess cars. The cars were fitted with a mixture of EMB Class 8 bogies, EMB Lightweights, Maley & Taunton and radial arm bogies.
Between 1953 and 1955, forty-six of these cars were sold to Glasgow.
Both EMB lightweight and Maley & Taunton swing link bogie sides are included in the kit. EMB heavyweight (Class 8) bogie sides are available on request.
The kit includes the parts to make either a Liverpool or Glasgow car.
Motor - MEEW or equivalent.