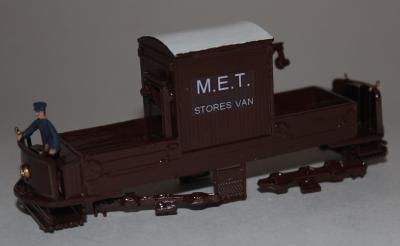 This kit is of the MET general purpose stores car. It was built in Hendon in 1923 and numbered 02.
It was a bogie vehicle with a central box section closely resembling the box body of stores van 04. On either side of the box body were swivelling gantries on which block and tackle lifting gear could be hung to deal with heavy items such as wheelsets and motors.
It was withdrawn about 1937 and broken up at Walthamstow depot yard early in 1938.
Truck - MEMT Maximum Traction bogie