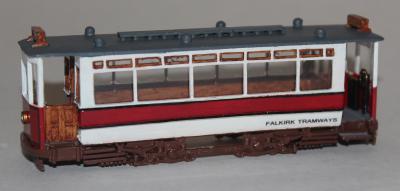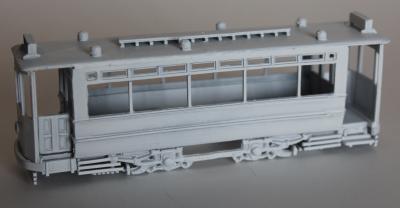 These trams were originally built in 1924 by English Electric for Dearne District Light Railways.
When Dearne tramways closed, 5 of these cars (numbers 11, 12, 17, 18 and 19) were sold to Falkirk where they were shortened and reconstructed.
The length was reduced from 32ft to 28ft 9in to get round the tight corners in Falkirk. The trucks were shortened to 7ft 4in by removing 1ft 2in from the middle and bolting the ends together.
All of the cars ended up slightly different.
11, 12, 17 & 18 were cross seat cars.
Car 11 had a rebuilt vestibule with three equal sized front windows and completely sealed nearside doors.
Car 12 retained it's track brakes, but the others lost theirs. It is alleged that car 12 doubled as a railgrinder car with carborundum blocks in place of brake blocks.
Cars 17, 18 & 19 were similar but the vestibules had variations.
19 had longitudinal upholstered seating for 26, the other cars seated 23.
The front exits were retained for a short while but not used, and they were soon blocked off.
Truck - ME28D09 - see OO gauge motors section of this web site.
For transfers for this kit, see KW 014a Falkirk transfers in the transfers section of this web site.