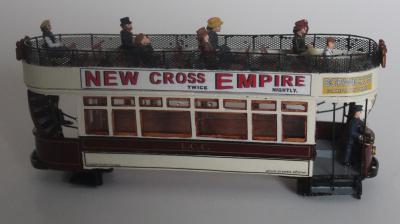 KW 020 LCC Class A open top
This kit is of the London County Council Class A cars. They were the first 100 cars built for the LCC in 1903. They were supplied by Dick, Kerr and Co Ltd. The bodies were built by the Electric Railway and Tramway Carriage Co Ltd and they were mounted on Brill 22E bogies. They were numbered 1 to 100.
They had plough carriers fitted to one of the bogies. Originally none were equipped with trolley poles.
A number of these cars were fitted with top covers by 1908 becoming class A1. Some of these then had the upper ends enclosed, becoming calls A2. Others had enclosed top covers and direct stairs with draught screens fitted, becoming class A3.
Motor - MEMT - see OO gauge motors section of this web site.
For transfers for this kit, see KW 020 LCC transfers in the transfers section of this web site.