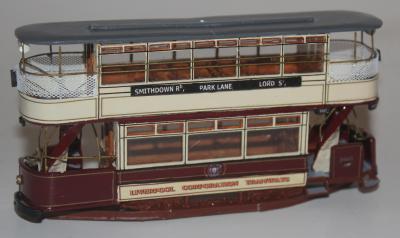 KW 022a Liverpool Twin Staircase batch 2 early
This kit is of the second batch of Liverpool twin staircase cars which were numbered 583-602 (note, cars 603-605 were built with a single staircase at each end).
They were longer than the earlier batch of cars 577-582 (see kit KW 022).
Some of these were later converted to have single stairs, and also had shorter platforms and enclosed top decks (see kit KW 022c).
Truck ME32D10 not included - see OO gauge motors section of this web site.
For transfers for this kit, see KW 022 Liverpool twin balcony transfers in the transfers section of this web site.