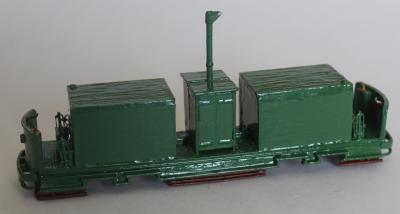 KW 029 Blackpool Weedkiller car
This kit is of the Blackpool weedkiller car number 161. Originally one of the toastrack cars (kit KW028) which had been withdrawn from service in 1939. In 1942, 161 was converted to a snowplough and water tank tram. In 1944 it was fitted with water sprinklers at each end and took up duties to spray salt water on to the tracks during weedkilling operations.
In 1948 it lost it's electrical equipment to become a trailer towed by the 1927 locomotive. It was resprayed into an all green works livery and was renumbered 7.
It was withdrawn in 1955 and scrapped in 1960.
Kit includes white metal parts and etched brass seats.
Motor - ME900 or equivalent.