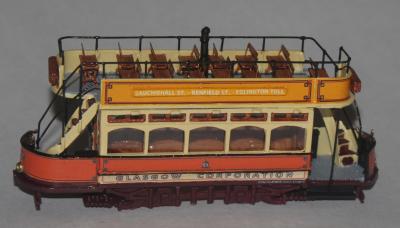 KW 038 Glasgow Standard Phase 1
This kit is of the Glasgow Phase 1 Standard cars numbered 316-287, most were built by Glasgow Corporation in the Coplawhill Carworks. The cars were built between 1899-1902 and 1909-1910.
They were open top double deck cars with short canopies and 17' long saloons.
In the downloads section of this site is a list of which cars were which route colour by phase.
Transfers - there are 6 sets available, a general set for all cars and an additional specific set for each of the route colours, see KW 038 xxx tr in the OO gauge transfers section.
Motor - ME24S10 or equivalent