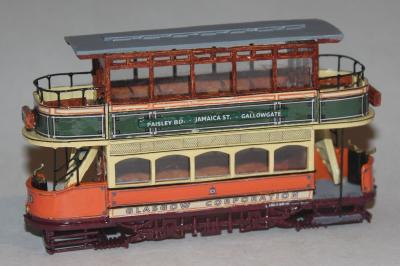 KW 039a Glasgow Standard Phase II
This kit is of the Glasgow Phase II Standard cars. They were balcony top double deck cars with 180 degree stairs and 17' long saloons.
This kit covers the Phase II/4 cars which had perforated or louvered ventilators and were rebuilds from Phase I/1 and Phase I/2 cars. Approximately 500 cars.
In the downloads section of this site is a list of which cars were which route colour by phase.
Transfers - there are 6 sets available, a general set for all cars and an additional specific set for each of the route colours, see KW 039 xxx tr in the OO gauge transfers section.
Motor - ME28S10 or equivalent