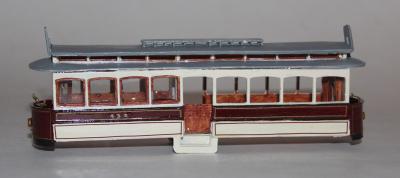 KW 049 Liverpool American single deck car
This kit is of the Liverpool American cars numbered 431 to 445.
These 15 centre entrance single deck bogie cars were built in 1898 by the J.G. Brill Company of Philadelphia. As built, they lad longitudinal seats for 36 including 2 on a moveable bench which closed the off –side platform step, but they were soon licensed for 40 seated and 14 standing. One saloon was originally for 16 first class non-smokers while the other slightly larger saloon seated 18 and had pull down blinds rather than glass in the windows.
In 1899 they were renumbered 6-20.
Truck - MEMT - Maximum Traction - see OO gauge mechanisms section of this web site.
For transfers for this kit, see KW 0049 Liverpool American transfers in the transfers section of this web site.