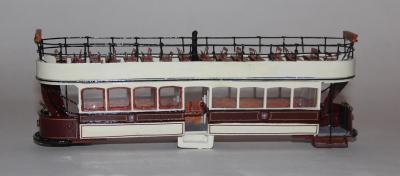 KW 049a Liverpool American open top car
This kit is of the Liverpool American cars numbered 6, 8 and 12.
The 15 centre entrance single deck bogie cars were built in 1898 by the J.G. Brill Company of Philadelphia. See kit KW 049.
In 1900, cars 6 & 8 were converted to double deck. Car 12 was converted in 1901. They had reversed stairs fitted and garden seats on the upper deck.
No 6 was licensed for 40 seats inside, 56 outside and 24 standing, of whom 10 stood on top.
Cars 8 and 12 had seats for 60 on top so could carry a total of 124, but probably carried more on race days. They were known as "Oceanics" after the new White Star Liner.
Truck - MEMT - Maximum Traction - see OO gauge mechanisms section of this web site.
For transfers for this kit, see KW 0049 Liverpool American transfers in the transfers section of this web site.