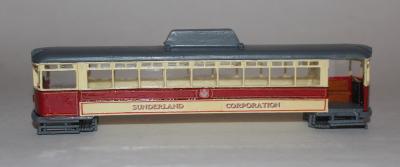 This kit is of Sunderland car 85.
This car – the 'covered wagon' entered service on 11th March 1931. It was the first Sunderland tram to have all seats upholstered. Originally it was fitted with a trolley, but it soon received a lengthened bow collector, mounted on a hump built on to the roof.
It was sold to Leeds in 1944 and was heavily modified to become railcar 600 which entered service in 1954.
Truck - MEMT - see OO gauge mechanisms section of this web site.
For transfers for this kit, see KW 0050 Sunderland 85 transfers in the transfers section of this web site.