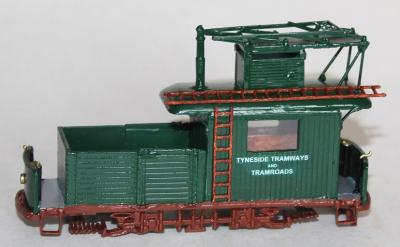 This kit is of Tyneside Tramways and Tramroads works car 27.
It was built in 1911 by the United Electric Car Co, and was a combined tower wagon, stores van, breakdown car and materials transporter. The body was divided into two halves, one of which was a closed van, with a tower platform mounted on it's roof, and the other half was an open wagon with side doors. Inside the van was a seat down one side and stores and equipment of carious kinds. The wagon portion was used for carrying sand, ballast, short lengths of rail, and granite setts.
Truck - MECORGI - see OO gauge motors section of this web site.
For transfers, see KW055 tr Tyneside works transfers.