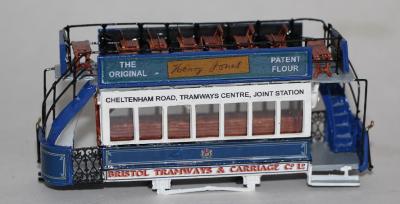 This kit is of the standard 7 window horse cars with straight tops and garden seats. They were 4 wheel open top double deck cars.
Cars of this type were used in Aberdeen, Belfast, Bristol, Cambridge, Derry, Edinburgh, Galway, Glasgow (Type IIB), Great Grimsby, Greenock & Port Glasgow, Ipswich, Keighley, Liverpool, London, Londonderry, Manchester, Middlesbrough, Newport, Oxford, Plymouth, South Shields and Stockport.
The kit includes the seats and wheels.
Transfers and horses are available separately.