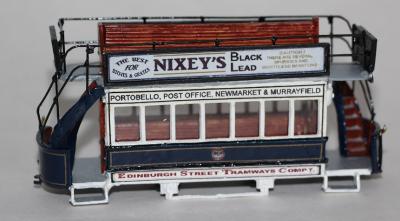 This kit is of the standard 7 window horse cars with straight top windows and knifeboard seats. They were 4 wheel open top double deck cars.
Cars of this type were used in Cardiff, Dundee, Edinburgh, Galway, Glasgow (Type IIA), Great Grimsby, Liverpool (Type B), London, Newcastle, Nottingham, Oxford, Plymouth, Sheffield, Southampton, Swansea, Wolverhampton, Wrexham and York amongst others.
The kit includes the seats and wheels.
Transfers and horses are available separately.