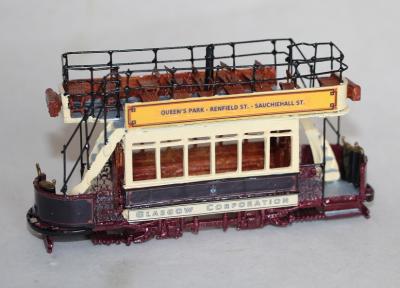 KW 063 Glasgow Electric Horse
Our kit is based on Glasgow electrified horse cars 1-120.
The expansion by Glasgow of the electrification of its tramway service in its earliest years created a need for new rolling stock beyond the capacity of the Coplawhill Car Works. In order to meet this demand, the decision was made to electrify 120 of the horse trams that had recently been withdrawn. The first car converted retained its short platform, but the rest had new extended teak underframes, lengthened platforms and new quarter-turn stairs. The canopies were extended and they were mounted on 6'0" Brill 21E trucks.
Truck - ME24S10 - see OO gauge motors section of this web site.
For transfers for this kit, see KW 063 tr Glasgow Elec Horse transfers in the OO gauge transfers section of this web site.