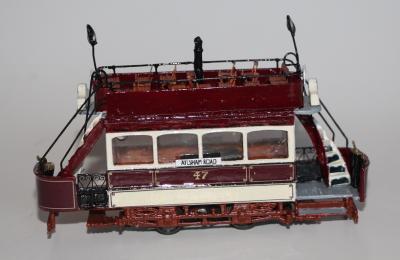 Our kit is based on Norwich 4 wheel electrified open top cars 43-47.
These cars were originally built as trailers by Brush in 1900. They had shorter 4 window saloons than cars 1-40. When electrified they used the Peckham cantilever trucks from the 5 cars that had been fitted with M&G trucks.
Note – this kit builds a narrow gauge tram, and so an OO gauge motor will be difficult to fit, but a TF (TT finescale) motor will fit.
Truck - MENTF24S10S or equivalent - - see Other Scales / 3mm Scale section of this web site.
For transfers for this kit, see KW 0065 Norwich transfers in the OO gauge transfers section of this web site.