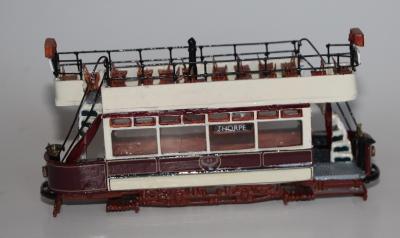 KW 066 Norwich English Electric cars
Our kit is based on Norwich English Electric replacement 4 wheel open top cars.
These cars were built by English Electric between 1923 and 1930. They had 17 foot long four window saloons and were mounted on the Peckham cantilever trucks of the original Brush cars they replaced. They were numbered 1-4, 6-11, 13-15, 17/18, 20, 23-26, 29/30, 33-34, 38-45 and 47.
Over the period of their use, these cars had a number of different front and side destination styles. The kit contains a number of alternative destination boards and boxes to allow the kit to be built to any of these. You will need to consult a picture of the tram you want to build to determine which parts you want to use and what livery details are needed.
Note – this kit builds a narrow gauge tram, and so an OO gauge motor will be difficult to fit, but a TF (TT finescale) motor will fit.
Truck - MENTF24S10 or equivalent - - see Other Scales / 3mm Scale section of this web site.
For transfers for this kit, see KW 0066 Norwich transfers in the OO gauge transfers section of this web site.