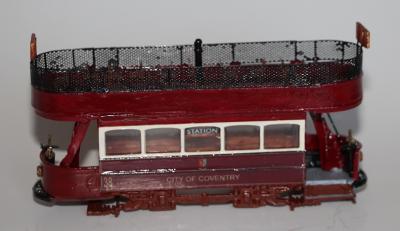 Our kit is based on Coventry cars 37-41. These 4 wheel open top cars were built for Norwich. They were transferred to Coventry in 1910. When they arrived in Coventry they had Mountain & Gibson trucks and were uncanopied, but a number of modifications were made including fitting Peckham P22 trucks, full canopies, different platforms and controllers.
The kit contains a number of alternative destination boards and boxes to allow the kit to be built to any of these. You will need to consult a picture of the tram you want to build to determine which parts you want to use and what livery details are needed.
Note – this kit builds a narrow gauge tram, and so an OO gauge motor will be difficult to fit, but a TF (TT finescale) motor will fit.
Truck - MENTF29S10 or equivalent - - see Other Scales / 3mm Scale section of this web site.
For transfers for this kit, see KW 0067 Coventry transfers in the OO gauge transfers section of this web site.