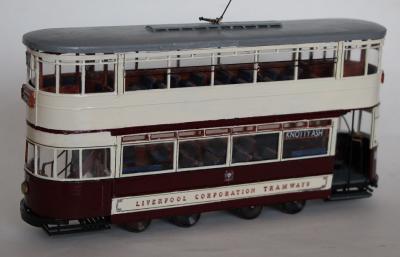 This kit is of the English Electric Bogie Cars, numbers 758-769. The bodies were built by the Edge Lane works in 1931 / 1932 and the electrical parts and monomotor trucks were supplied by English Electric.
Most of the cars were repainted in green and ivory and the destination boxes were changed to the new three screen type.
In the late thirties / early forties, they were reconditioned to varying degrees and mounted on EMB lightweight bogies.
Car 762 is preserved by the Merseyside Tramway Preservation Society at the Wirral Transport Museum.
The kit can be built to represent either the original or reconditioned cars and includes both upper and lower deck seats.
Truck - MEO31D16 EW x2 – Double drive, 31mm wheelbase, 16mm wheels for monomotor.
- MEO34D16 EW x2 – Double drive, 34mm wheelbase, 16mm wheels for EMB
For transfers for this kit, see KW 115 Liverpool transfers in the transfers section of this web site.
Additional parts you may require
GlazeOstd 10 thou glazing x4
GlazeOOthin 5 thou glazing x4
Wire1 Brass wire 1mm x3
KW1SSBDBL Double Garden seats x0 seats
KW1SSBSGL Single Garden Seat x0 seats