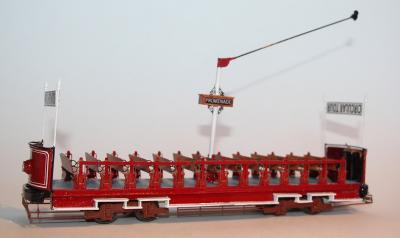 KW 124 Blackpool Toastrack
This kit is of the second batch of Blackpool toastrack cars numbers 161 to 166. They were built by BCT in 1927. They were slightly shorter than the previous toastracks and had 13 crossbench seats. In 1936/7 they were rebuilt with pairs of seats and a central gangway (see kit KW 124a). They were taken out of service in September 1939 and put into storage. 161 became a water tank tram, and cars 165 & 166 became TV cars, 163 became the 'Blackpool Belle'.
166 was presented to the Tramway Museum Society in 1972 and has been restored to its original condition.
The kit includes white metal body parts plus etched brass seats, lifeguards, lifetrays, scroll work, as well as brass rod and tube.
Bogies - MEO28D16 Low Height or equivalent
For transfers for this kit, see KW 124 Blackpool Toastrack transfers in the O gauge transfers section of this web site.