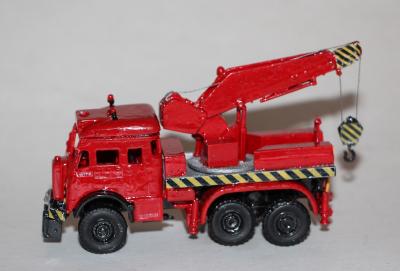 The AEC Militant 1 was introduced in 1952 for the war department. The army used Militants as general cargo trucks, tippers, crane lorries and artillery and anti-aircraft gun tractors. The RAF used them as high pressure aircraft refuellers and the National Coal Board used them with special bodywork equipped with emergency pit winding gear.
Two ex- army militants, built around 1954, were purchased by London transport in October 1966. They were bodied as master breakdown tenders with cranes by Boughton of Amersham, and were given the fleet numbers 1456MR and 1457MR. 1456MR is a 6x6 militant with chassis number 0860 039, and 1457MR a 6x4 militant with chassis number 0859 078, formerly army registration numbers 36BM73 and 36BM12 respectively.
1456MR ran from Camberwell garage- trade plates 598LB and 559LC are among those known to have been used. It was withdrawn in September 1980 due to a fractured chassis and was sold in May 1981 for preservation (the chassis being repaired by its new owner).
1457MR ran from Cricklewood garage on trade plates 587LB and was withdrawn in November 1982 being sold in April 1983 to the same owner as 1456MR. 1456MR was later sold to National rescue who currently use it as a recovery vehicle in S.W. London and Surrey. It is registered XGP 389W.